#GangubaiKathiawadi, #AliaBhatt, #SanjayLeelaBhansali, #Kamathipura
IBNS: In the 10th year of her eventful Hindi film career, contemporary leading Bollywood actress Alia Bhatt's long-cherished dream of working with ace director Sanjay Leela Bhansali materializes through Gangubai Kathiawadi, a real-life story on brothel owner Gangubai Kathiawdi who used to live in the Kamathipura area of Mumbai. Ahead of the film's release, IBNS correspondent Souvik Ghosh catches up with her
We all know that you always wanted to be Sanjay Leela Bhansali's heroine. How was working with him and how did you feel when the dream came true?
Twenty years ago when I was nine, I walked into his (Sanjay Leela Bhansali's) house to audition for the movie Black to play the little girl's part (the younger version of actress Rani Mukerji in the film). I don't know what audition I gave (smiles) but from that moment onwards I knew and believed in my heart that one day I will be directed by Sanjay Leela Bhansali. Finally, my first film with sir (Sanjay Leela Bhansali) is releasing.
Contrary to my thoughts which went on for the last 20 years, nothing could have prepared me for this kind of experience (of working with Sanjay Leela Bhansali), which is life-changing. It is a once-in-a-lifetime opportunity for an actor. This experience brings a very big smile to my face.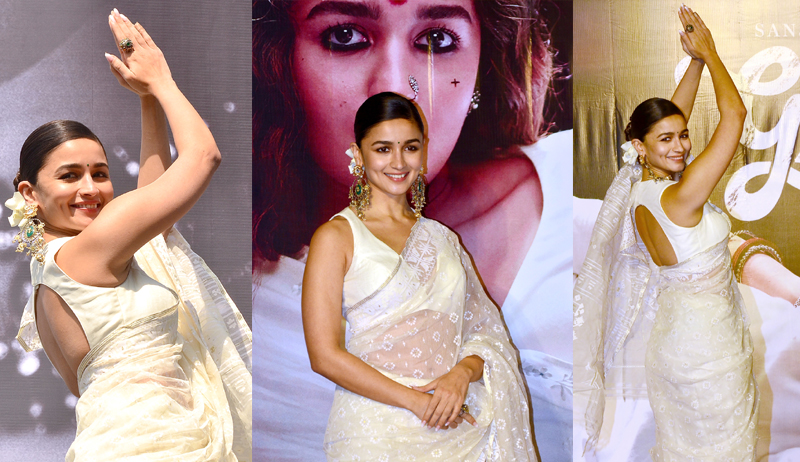 Did you actually run away after hearing the script of Gangubai Kathiawadi and then agreed to do it the very next day?
Let me tell you the back story. Before Gangubai Kathiawadi, Sanjay sir and I were meant to do another film titled Inshallah, which didn't happen for some reason. It was a very different genre, a love story. So when sir narrated Gangubai Kathiawadi to me, I was very confused as I had to hear two very different narrations (of two films) in a span of a very few months. I don't think I was prepared. I didn't run away but I was just doubting my capability of pulling off this part because nobody had trusted me in a part like this (Gangubai).
Sanjay sir believed in me but he asked me to take the decision. So I went back to my house to think over it. But the moment I stepped into my house, I realized it was sir's belief which was all I needed. So I messaged him immediately and went back to him the next day.
How challenging was it to get into the headspace of Gangubai?
Gangubai has been the most challenging character I have played to date. Speaking about how I got into the skin of the character, I don't think this is something I can quantify as a preparation. No preparation could help me go through and perform the character. Every day on the set, we would discuss the scene before going and performing it. It was those discussions that gave me a visual representation and a world of this character.
Sir feels very strongly about the subject and Gangubai. He calls her a rockstar, not only for her strength and courage but because she takes her situation and makes that her strength. The film is about Gangubai's journey. So her strength was what kept me going as the one tone of the character and beyond that, the bitter-sweet feeling that she possibly could have had another life and not thrown into this situation.
You are completing 10 years in the Hindi film industry in 2022. There is something called unlearning in any profession besides learning. Was there any moment where you had to unlearn something in the course of the film?
Yes absolutely. Before I started working with Sanjay sir, I always thought the process was learning the scenes present within the script and performing. With sir, it was completely different as we used to discuss the scenes which were there in the script on the set. In sir's opinion, there are 700 million ways to approach a scene, so he takes time to go through every process and angle. Finally, he will go ahead and settle on a route. So what I had to unlearn is that there are no rules. There is no rule when it comes to filmmaking.
Has the film drained you more than what you have extracted from it?
In this case, it's a bit of both. It did definitely take a lot from me but it also gave me a lot. Gangubai was a confident person, an underdog who constantly struggled but she was okay with what she was. For that reason, she was able to fight for Kamathipura (a neighborhood in Mumbai) and the children there. I have learned from Gangubai a certain acceptance that only comes from within and not anyone else.
Was there any difficulty you faced in portraying the character?
For me, the most difficult thing was that my visual representation is very soft. My face and body are small. I don't have a towering physique, so I can't express my power through my body or show hardness on my face. So all had to come from my eyes, so that was the toughest part. Hopefully, I have managed to do it correctly.
(Images by Avishek Mitra/IBNS)