#TIFF2023#Awards#Films#FilmAwards#AmericanFiction
Toronto: Cord Jefferson's "American Fiction," a wicked satire about the commodification of marginalized voices and a portrait of an artist forced to re-examine his integrity, has won the People's Choice Award at the Toronto International Film Festival (TIFF) , raising the film's prospects in the Oscar race.
Jeffrey Wright stars in Cord Jefferson's adaptation of Percival Everett's Erasure as his work has been hailed as one of his most beautifully nuanced performances.
Filmmaker Cord Jefferson, born in Tucson in Arizona, is an Emmy Award–winning writer and story editor whose television credits include Master of None (17), Watchmen (19), The Good Place (17–19), and Succession (19). American Fiction (23) is his feature debut.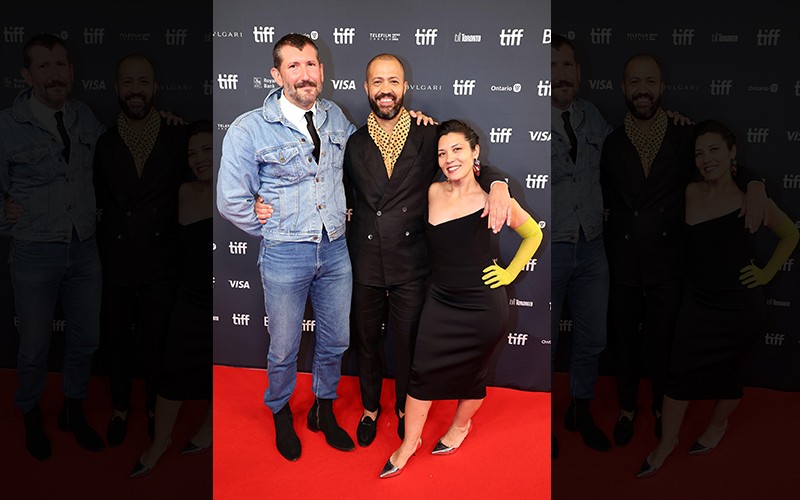 The Toronto International Film Festival 2023, which began on Sept 7 and concluded on Sept 17 , has announced the award recipients for the 48th edition of the Festival.
"We're grateful to all the audience members, artists, industry professionals, and supporters who graced Toronto's cinemas, red carpets, meeting spaces, and streets," said Cameron Bailey, TIFF CEO.
"As we recognize award winners today, we thank everyone who contributed to this glorious, collective gift," he said.
The Winners:
TIFF 2023 PEOPLE'S CHOICE AWARD:
American Fiction directed by Cord Jefferson.
The first runner-up is The Holdovers directed by Alexander Payne, and the second runner-up is The Boy and the Heron directed by Hayao Miyazaki.
SHORT CUTS AWARDS:
The winners of the three awards for SHORT CUTS AWARDS who would each get a bursary of $10,000 CAD:
Daria Kashcheeva, director of the film Electra, which resonates with under-the-skin discomfort long after the film is over, would be the recipient of the Short Cuts Award for Best Film.
Short Cuts Award for Best Canadian Film would be bestowed to Jasmin Mozaffari, director of the film, Motherland.
Renee Zhan, director of the film Shé (Snake) is the recipient of the Short Cuts Share Her Journey Award for capturing the hearts of the audience with its humour and charm.
Honourable Mention is made to Gaby's Hills, directed by Zoé Pelchat
NETPAC AWARD:
Instituted to promote Asian cinema and to bring international attention to independent and non-mainstream films focusing on the discovery of new talent, this award is given to Jayant Digambar Somalkar's A Match for his immersive portrayal of life in an Indian village, highlighting its oppressive patriarchal customs.

An honourable mention has been made to Mimang, directed by Kim Taeyang.
THE 2023 FIPRESCI PRIZE:
It is bestowed on director Meredith Hama-Brown for his film Seagrass for carefully staging her convincing actors, especially the young ones and skillfully dealing with subjects like masculinity, family taboos, motherhood and structural anti-Asian racism.
The three Amplify Voices Awards presented by Canada Goose will receive a cash prize of $10,000 each. They are as follows:
Amplify Voices Award – Best BIPOC Canadian Feature: Kanaval, directed by Henri Pardo, for capturing both magical realism and post-colonial trauma, in a beautiful, poetic, and convincing way and is an honest ode to the immigrant experience.
Amplify Voices Award for Best BIPOC Canadian First Feature Award is presented to Tautuktavuk (What We See), directed by Carol Kunnuk, Lucy Tulugarjuk for powerfully capturing truth by turning the camera inward to both look at and listen to themselves and their community and honouring the authenticity of their voices.
The Amplify Voices Award celebrating a Canadian BIPOC Trailblazer, recognizing a producer, was presented to Damon D'Oliveira, producer for making significant contributions to the Canadian film landscape
Solo, directed by Sophie Dupuis, has been selected as this year's Best Canadian Feature Film for its coming-of-age narrative about family, both blood and chosen, and the complications and beauties of both.
CHANGEMAKER AWARD:
The Changemaker Award is presented to We Grown Now, directed by Minhal Baig for embracing the power in young people and celebrates the next generation of storytellers and changemakers in cinema. The winning film receives a $10,000 CAD prize for offering a compelling depiction of family and friendship within the backdrop of Chicago's public housing project, Cabrini-Green.
PLATFORM AWARD:
The 2023 Platform Award of $20,000 CAD is given to Dear Jassi, directed by Tarsem Singh Dhandwar for his honest portrayal of a subject matter that still affects large portions of individuals forced to live under the inhumanity of bitter caste systems throughout the globe.
The TIFF 2023 People's Choice Midnight Madness Award winner is Dicks: The Musical directed by Larry Charles.
The first runner-up is Kill directed by Nikhil Nagesh Bhat with the second runner-up being Hell of a Summer directed jointly by Finn Wolfhard and Billy Bryk.
The TIFF 2023 People's Choice Documentary Award winner is Mr. Dressup: The Magic of Make Believe dir. Robert McCallum.
The first runner-up is Summer Qamp dir. Jen Markowitz.
The second runner-up is Mountain Queen: The Summits of Lhakpa Sherpa dir. Lucy Walker.
(Reporting by Asha Bajaj and Suman Das)