TIFF2023; #DeepaMehta; #Sirat
Toronto/IBNS: Caught between duty and self-determination, Sirat Taneja, a transgender woman has to lead a dual life. While at home, she has to act as her mother's son taking care of her traditional mother in New Delhi. But out in the world, she can be a woman with her friends and at work with the Government of India. The documentary 'I Am Sirat'  has been constructed around Sirat's lens with a collaboration between director Deep Mehta and Sirat. Shot on smart phones, I Am Sirat explores the troubling and complex duality of her life. She controls her narrative and makes it accessible to the world.
During the Red Carpet event of this documentary film, IBNS-TWF correspondent Asha Bajaj had an opportunity to discuss a few features of this film and struggles faced by both Deepa Mehta and Sirat Taneja.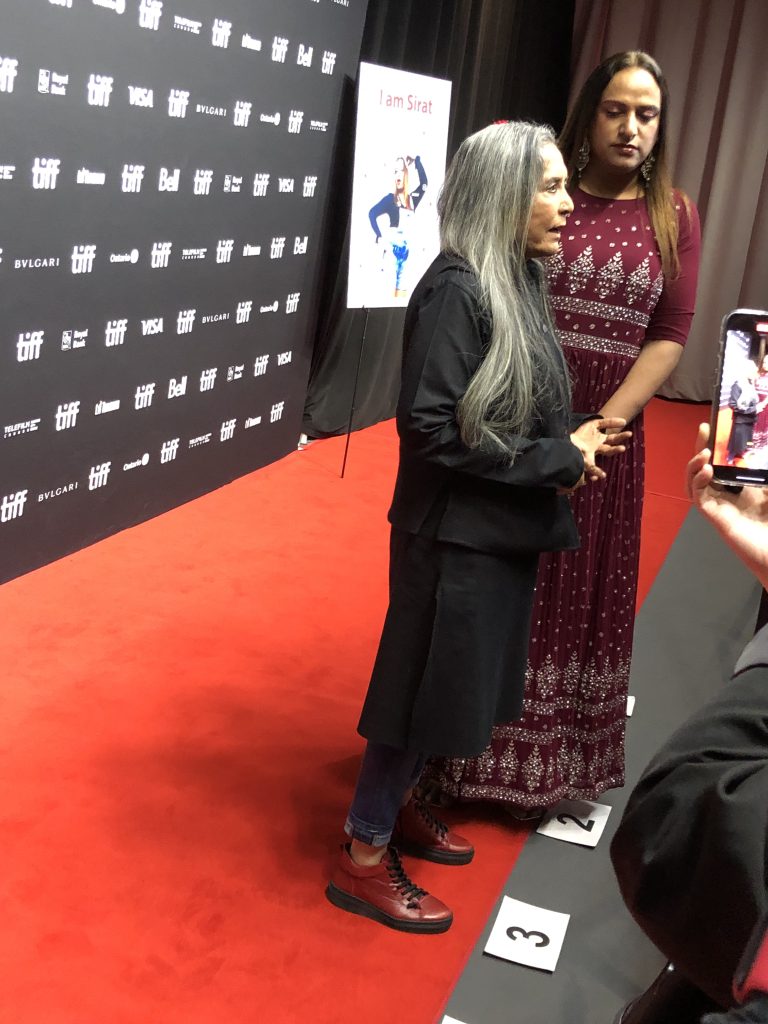 Following is the extract of the dialogues I had with Deepa Mehta and Sirat Taneja.
To Deepa Mehta: This is your first documentary devoted to the poignant story of Sirat Taneja, a transgender woman who must act as her mother's son when at home in New Delhi. While out in the world, Sirat as a woman has a great life, a good job, and supportive friends. What led you to construct this film around Sirat's life?
Deepa: This is Sirat's story and we are very good friends. I have known her for the last four years and we previously worked together on a film called Laila and came to know about her very well. Although she is fearless, she is having a difficult time with her dual existence. To this day she is caught between her mother and her self-determination. She is a force of nature and I really loved that and I like her. She approached me and wanted me to produce this documentary film so that she could tell her struggles of being transgender to the whole world. There is no power struggle between me and Sirat, The world needs to be aware of the struggles faced by the transgender people. This is Sirat's story and I let her continue with this.
Sirat: I have been struggling in my home where I have to be the dutiful son of a mother who can't accept the idea of a trans daughter. I cannot even get dressed as myself in my own bedroom. I have rented a space nearby for my clothes and makeup. I wanted to bring my story out to the whole world to let them know who I am. I did not want to do it alone and needed some support and therefore I approached Deepa Madam who is my second mother. Deepa accepts me as who I am. I have two mothers, one who has given birth to me and Deepa is my second mother in whom I can confide all my thoughts and feelings. She agreed to bring my story in front of the whole world.
To Sirat: I am so glad that you honor Deepa Mehta as your second mother, It is really appreciative.
Deepa to Sirat: Sirat. Damn good yaar. When the film ends I feel it is my film. It is a film for all of us. But please stop calling me Madam. It is better that you call me your mother.
To Sirat: Did you face any challenges as far as your role is concerned ?
Sirat: I had to face some challenges. When my face was exposed to the sun for lighting effect, my eyes would get closed and I could not tell the story. Also some dust would appear on my face as well as on the camera of the phone. Deepa would repeatedly remind me that there should neither be dust on my phone through which I was trying to narrate my story. Nor should there be any dust on my face. Apart from this challenge I did not face another challenge.
Deepa: Apart from these, we did not face any other challenges. Sirat filmed herself in Punjabi and we had to get it translated to English. It was edited by Kabir Singh Chowdhry.
To Deepa: How much time did it take for you to complete this film?

Deepa: It took between two to three months to complete this film. We started documenting the story in the month of November 2022. I told Sirat that it is her film and she would be the narrator. She would be making the beginning and the end and would be filming herself. There would be no lighting and also no camera or makeup.