M Rose Peluso back cover page image
Asha Bajaj from Canadian Media writes a review on M. Rose Peluso's debut book, 'Behind the Tapestry, My Discovery of God's Grace Amidst Pain and Loss.'
M. Rose Peluso is a former graphic designer & a Catholic Religious Sister (Nun), and a former educator. Her lifelong desire to someday move to Hollywood and become an Academy Award-winning art director was disrupted by an invitation to a Catholic prayer meeting which led to a transformation point in Maryanne's life with the realization that her true calling is to build a relationship with the Lord.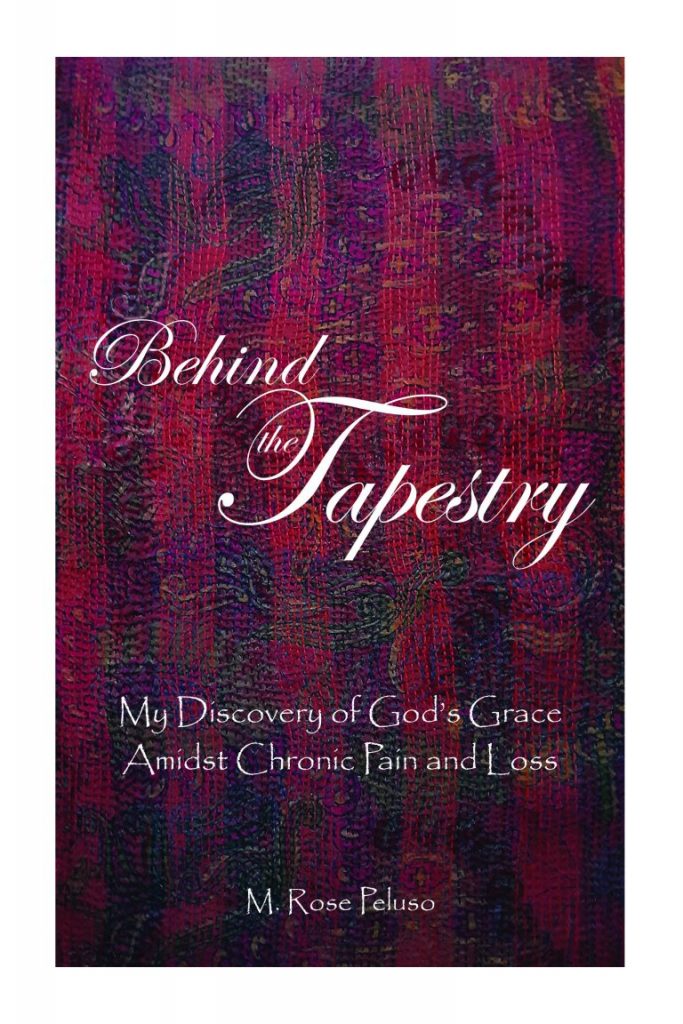 A chronic pain sufferer for over 22 years from a rare, debilitating, intractable condition known as Pudendal Neuropathy, M. Rose has written this memoir to help other chronic pain sufferers.  
When suddenly fired from her job, Maryanne's constant prayers to God made her realize that devotion to Jesus was her main calling which led her to the Catholic Convent. Her entrance into this religious community was preceded by a mysterious condition that caused widespread, chronic pain. Despite this pain, Maryanne joined a group of Franciscan Sisters in 1999. But her strained relationships with her superiors along with constant nagging physical pain and her dilemma to remain in the Convent and take final vows or leave her Religious Life to care for herself instead were resolved by Maryanne's constant prayers to the Lord.
The message that she received from the Lord was that only in the "brokenness of heart do I discover my radical dependence on God…To make His trial mine and my trial His, this is the plan of Salvation."
During one of her classes at the seminary, Dr. Naggety compared Heaven to a tapestry and explained how our experiences on earth are like loose threads that shape us into who we are here, on this side of Heaven and which represents the back of the tapestry, and that also but not entirely rationalizes the title of the memoir.
God outfits us for Heaven to weave together all loose and broken threads and once we are in Heaven, do we truly see our lives from God's perspective. And can see the front of the whole tapestry with an image of beauty we spent our entire life weaving. It becomes clear to Maryanne that all the hardships and pain she suffered were God's preparing her to weave different loose threads of experiences into one sublime image visible when we totally surrender ourselves to God's desire.
"Someday, Jesus will take us gently by the hand and bring us to the other side, where we will take in the whole picture…a creation of our own in union with the Creator," wrote the author of the book.
This awakening message and her decision to cut short her stay in the Convent and still devote herself to God from her home taking care of herself and her mother transcend her soul into an emerging and transparent tapestry through which she learns of God's will.
The message of the book is revealed in the last paragraph of her book "But in the meantime, while you wait for the Lord to finish outfitting you for Heaven, try to enjoy as much of your life here on earth as best as you possibly can – BEHIND THE TAPESTRY. God Bless."
Pub Date: 2021
Library of Congress Control Number:
ISBN: 13: 978-1-63728-135-2:
ISBN: 978-1-63728-136-9:
Publisher: Writers Republic, LLC
Paperback: U.S. $17.99
Page Count: 335
2021930248
Paperback Edition
Digital Edition
Categories: Non-Fiction
Copyright: @ 2021 by M. Rose Peluso
#BehindTheTapestry; #MaryMPeluso; #NonFiction; #BookReview; #RelationshipWithLord