#WaheedaRehman#DadaSahebPhalkeAward#Indiancinema#Bollywood#HindiCinema
New Delhi/IBNS: Veteran actress Waheeda Rehman will be honoured with the Dadasaheb Phalke Lifetime Achievement Award this year, the Ministry of Information and Broadcasting announced on Tuesday.
From playing a sex worker in Pyaasa to the rebellious Rosie in Guide, Rahman had essayed roles which were unconventional and ahead of her time.
On Tuesday, I&B minister Anurag Thakur took to Twitter to make the announcement. He wrote, "I feel an immense sense of happiness and honour in announcing that Waheeda Rehman ji is being bestowed with the prestigious Dadasaheb Phalke Lifetime Achievement Award this year for her stellar contribution to Indian Cinema."
Praising the iconic actress, Thakhur added, "Waheeda ji has been critically acclaimed for her roles in Hindi films, prominent among them, Pyaasa, Kaagaz ke Phool, Chaudhavi Ka Chand, Saheb Biwi Aur Ghulam, Guide, Khamoshi and several others. In her career spanning over 5 decades, she has essayed her roles with extreme finesse, leading to a National Film Award for her role as a clanswoman in the film Reshma and Shera. A Padma Shri and Padma Bhushan awardee, Waheeda ji has exemplified dedication, commitment and the strength of a Bharatiya Nari who can achieve the highest level of professional excellence with her hard work."
"At a time when the historic Nari Shakti Vandan Adhiniyam has been passed by Parliament, her being awarded with this lifetime achievement award is a fitting tribute to one of the leading ladies of Indian Cinema and one who has dedicated her life after films to philanthropy and the greater good of society. I congratulate her and humbly pay my regards to her rich body of work that is an intrinsic part of our film history," he added.
Notable Works
Wahida Rehman, 85, worked mainly in Hindi films, began her acting journey way back in 1955 with Telegu film Rojulu Marayi.
Acclaimed for her roles in iconic films like Guide and Reshma Aur Shera, Waheeda Rehman is set to receive this prestigious accolade.
Waheeda Rehman's portrayal of unconventionally bold and beautiful Rosie in Guide and her mesmerizing snake charmer dance elevated the film to new heights in Hindi cinema. Her performance in the storyline ahead of its time in Hindi cinema, not only showcased her exceptional talent but also emphasised the profound socio-psychological role that dance played in her character's journey. Guide marked a milestone in Indian mainstream cinema, setting a standard of aesthetic excellence in dance.
She is best known for her Hindi films like Pyaasa, Kaagaz ke Phool, Sahib Bibi Aur Ghulam, all of which were directed by Guru Dutt.
Her 1959 film Kaagaz Ke Phool by Guru Dutt was commercially a failure but it is hailed as a masterclass in craft of cinema. Starring opposite Guru Dutt, the married man with whom she was romantically linked in real life, Kaagaz Ke Phool tells the story of a filmmaker and his muse (Waheeda), the heroine he gave break and created but whom he deserts as she becomes a popular star.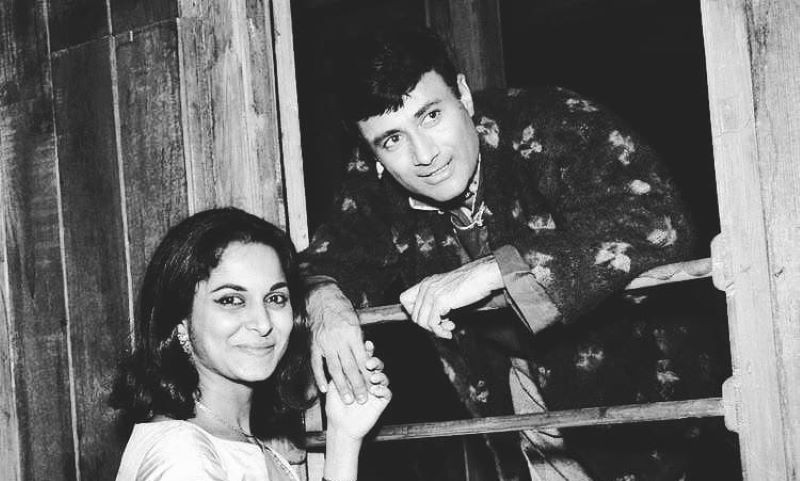 Photo courtesy: Instagram/Waheeda Rehman
Some of her other notable works are Neel Kamal, Ram Aur Shyam and Khamoshi among others
She won the National Film Award for Best Actress for her work in the 1971 film Reshma Aur Shera.
The Madhya Pradesh government also honoured the veteran actress with Kishore Kumar Samman in 2020.
Personal Life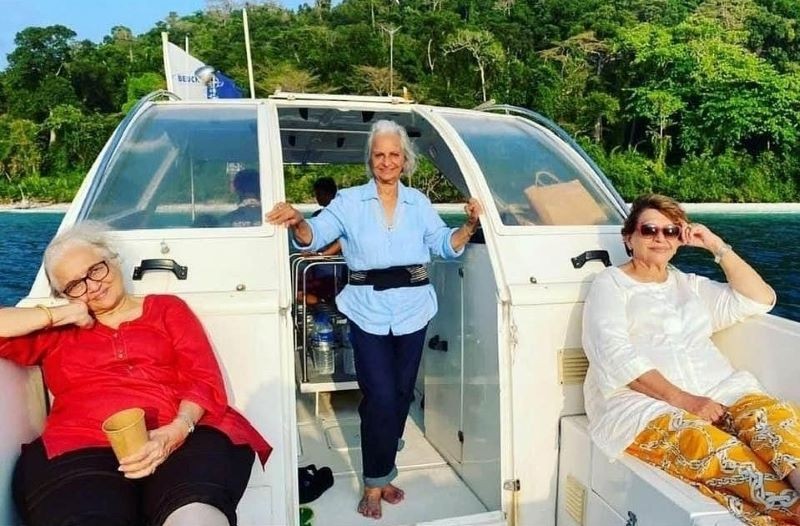 Waheeda Rehman, Asha Parekh and Helen, known for their strong bonding since the heydays of their career in Bollywood, in an outing in the Andamans in 2021. (Photo Courtesy: (www.instagram.com/tanuj.garg)
In 1974, Rehman married her co-actor in the film Shagoon—Shashi Rekhi also known by his screen name Kamaljeet. Her two children, Sohail Rekhi and Kashvi Rekhi, are writers.
After her marriage, she lived in a farmhouse in Bangalore but after the death of her husband on 21 November 2000, she moved back to her sea-view bungalow in Bandra, Mumbai, where she currently resides.