Balasore/IBNS: Railway Minister Ashwini Vaishnaw has said the root cause of the Odisha three-train accident has been identified and the restoration work of the track should be completed by Wednesday.
He made the statements while reviewing the restoration work at the train accident site on Sunday morning. The Railway Minister has also apprised Prime Minister Narendra Modi on the latest developments.
"The root cause of this accident has been identified. PM Modi inspected the site yesterday. We will try to restore the track today. All bodies have been removed. Our target is to finish the restoration work by Wednesday morning so that trains can start running on this track," Vaishnaw told the ANI.
The toll in the horrific three-train accident in Odisha's Balasore mounted to 288 with around 803 people injured, officials said Saturday after rescue operations ended in the country's deadliest train accident in 20 years.
Prime Minister Narendra Modi reached the site of the railway mishap on Saturday and inspected the ground situation.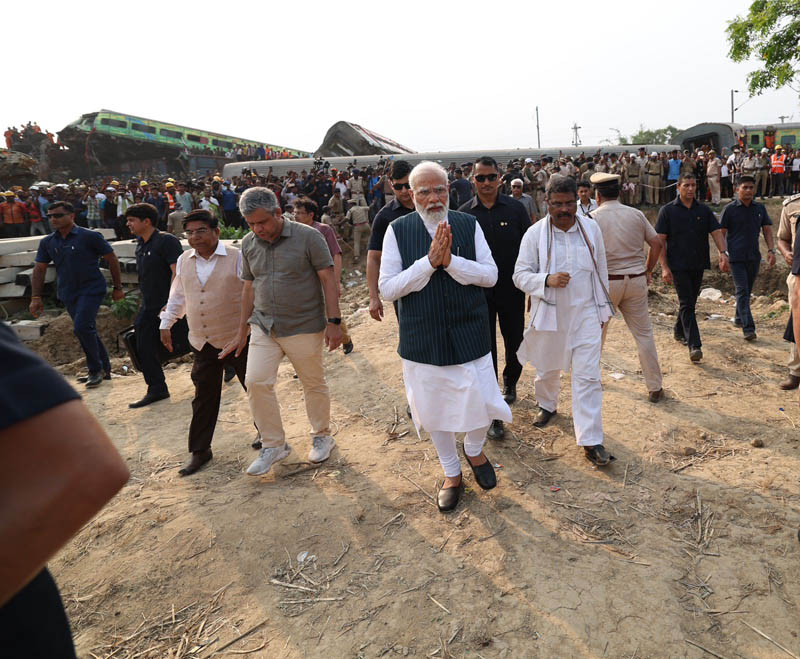 Earlier responding to West Bengal Chief Minister Mamata Banerjee's remark on the official death count in the tragedy, the Railways Minister said, "We want full transparency, this is not the time to do politics, this is time to focus on making sure that restoration happens at the earliest."
On Saturday, Banerjee and Vaishnaw- while speaking to the media- had disagreed over the death count in the horrific accident.
Vaishnaw, who was standing with Mamata Banerjee, sought to correct her when she suggested that the death count could be as high as 500.
"I have heard it could be 500," she said, adding that rescue work had not been completed in three bogies even as Vaishnaw maintained the death count (at that time) was 238.
PM Modi too assured that action will be taken against those responsible for the incident.
The crash involved the Bengaluru-Howrah Superfast Express, the Shalimar-Chennai Central Coromandel Express, and a goods train.
The accident occurred when one train rammed so hard into another that carriages were lifted high into the air, twisting and then smashing off the tracks. Another carriage had been tossed entirely onto its roof, crushing the passenger section.
Chief Minister Naveen Patnaik has declared one-day state mourning in view of the horrific train crash.
Vaishnaw earlier announced a compensation of Rs. 10 lakhs for the families of those who have died, Rs. 2 lakhs for those seriously injured, and Rs. 50,000 for those who sustained minor injuries in the accident.
PM Modi too expressed his distress over the accident and announced a compensation of Rs. 2 lakhs for the family of the dead and ₹ 50,000 for the injured from the PM's National Relief Fund (PMNRF).
As many as 48 trains have been cancelled following the horrific accident, 39 diverted and 10 trains have been short-terminated on the Howrah-Chennai main line in the Kharagpur division of the South Eastern Railway.
#OdishaTrainAccident, #OdishaMishap, #AshwiniVaishnaw, #PMModi