CMEDIA: Canadian Immigrant magazine's Top 25 Canadian Immigrant Awards — only national awards program that celebrates the achievements of inspiring Canadian immigrants — was presented by Western Union, and supported by Costi on Aug 11 at Sheraton Hotel, Toronto with speeches, and ceremonies.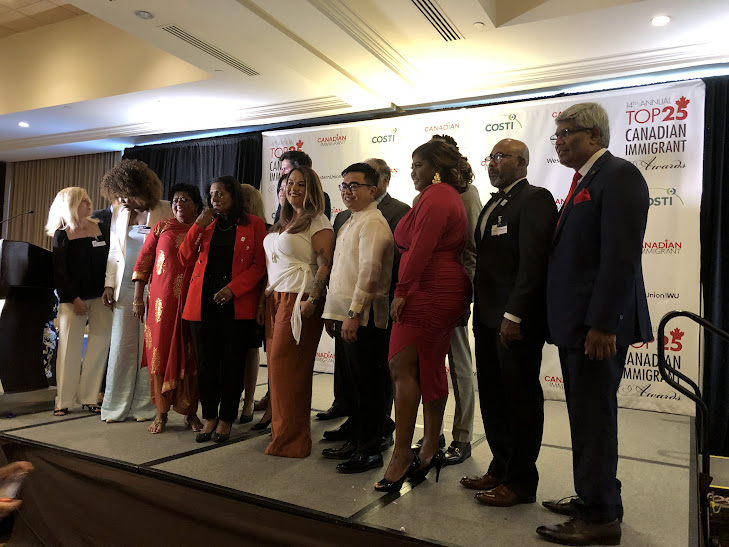 All the winners were invited to the stage one by one where they presented their unique experiences.
Sanjay Agnihotri, publisher, Canadian Immigrant magazine reported saying that this year's winners have shared the amazing stories of their journeys to Canada, which are truly inspiring examples of immigrant success stories.
"As a purpose-driven organization, Western Union stands together with our Canadian customers to harness the power of remittances…as the sponsor of these prestigious awards, we celebrate success and recognize the numerous contributions…as they continue their journey in their new country," said Serra Pinto Avimlah, Go to Market Manager for Western Union Canada in a media release.
The Top 25 Canadian Immigrants of 2022 followed an extensive nomination, judging, shortlisting, and public online voting process. Of the hundreds of nominations received, 75 finalists were shortlisted by a diverse judging panel of past winners, 25 winners were chosen based on a combination of votes and judges' merit scores. Over 60,000 online votes were cast at canadianimmigrant.ca. 
The full list of winners is now being featured online at canadianimmigrant.ca/top25 and in the August edition of Canadian Immigrant magazine. 
The Toronto Star, CityTV, Sing Tao Media and OMNI Television further support the awards program.
About Canadian Immigrant
A national multimedia platform to help immigrants succeed in Canada, with content, resources, and events on careers, education and settlement, Canadian Immigrant attracts more than 100,000 readers each month and over 100,000 visitors a month online.
As the producer of the cross-country Career, Education, and Settlement Immigrant Fairs, Canadian Immigrant is a division of Metroland Media Group, a dynamic media company with more than 70 community and daily newspapers in print and online, as well as innovative websites including wheels.ca, goldbook.ca, flyerland.ca, and localwork.ca.
About Western Union
A global leader in cross-border, cross-currency money movement and payments,  Western Union's platform provides seamless cross-border flows, and its leading global financial network bridges more than 200 countries and territories and over 130 currencies.
Connecting businesses, financial institutions, governments, and consumers through one of the world's widest reaching networks, Western Union accesses billions of bank accounts, millions of digital wallets, and cards connecting the world to bring boundless possibilities within reach.
About Costi
Empowering newcomers who come to our country from all over the world, to succeed and achieve their full potential in their new home, Canada, COSTI was established almost 70 years ago aspiring to encourage newcomers to dream beyond their immediate needs and achieve their dreams.
"COSTI is proud to be a partner of the 2022 Top 25 Canadian Immigrant Awards and to celebrate the achievements and success of newcomers who are the fabric of our country. In working together, we are building opportunities for Canada's ongoing and future success today!" Mario J. Calla, Executive Director in the media release.
#25CanadianimmigrantwinnersFor2022