IBNS: Bollywood actress Anushka Sharma is often targeted by a section of netizens for the setbacks of her cricket husband Virat Kohli and Team India.
A similar scenario emerged once again following India's devastating World Test Championship final loss.
A Twitter user, named Pradipsinh Solanki, who claimed himself to be a "true fan" of Kohli, blamed Anushka's presence in the audience for India's poor performance. He has even requested the Bollywood star to consider skipping watching India's matches on the ground in future.
Pradipsinh tweeted, "Dear @AnushkaSharma, as a true fan of Virat, I've noticed a pattern whnevr Anushka is present at the stadium during matches. It seems like neither Virat achieves his goals nor does Team India or any player. I kindly request you to consider not attending matches. Hoping for best!"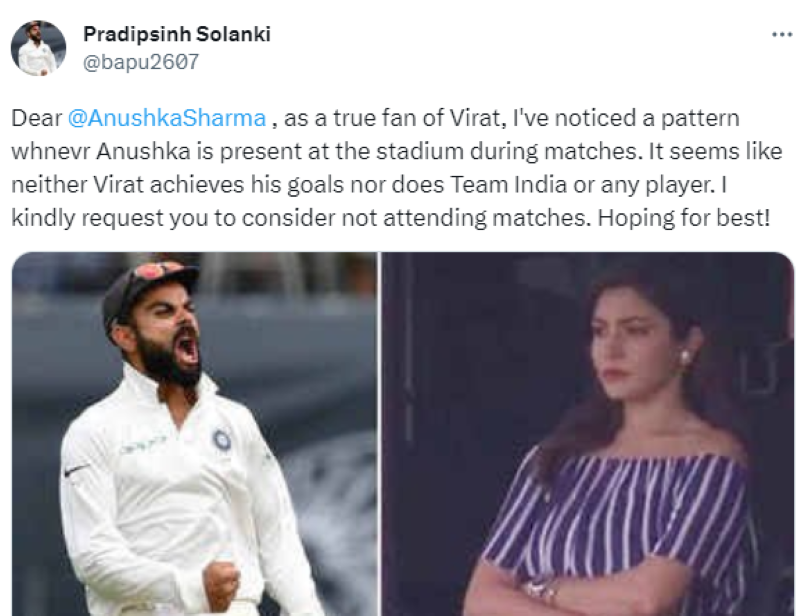 Netizens react
One Gautam said, "I'm not against of anyone here but Anushka Sharma and Virat Kohli are soft target for trollers more than 8 years now. I believe Virat Kohli's One day achievement is more than your whole life's one. As a True Cricket Fan you should watch match not other wives."
Another user said, "Dear Pradipsinh Solanki, a true fan of the Indian Cricket Team, I've noticed a pattern whenevr you watch the match, it seems like neither the team achieve their goals nor do they win trophies. I kindly request you to consider not watching cricket. Hoping for best!"
One Akash said, "You have been watching all those matches,maybe you donating your eyes to someone else will ensure Virat and Team India's success. It may not work but hey a real Virat and India fan wouldn't give up without trying."
India suffer second straight WTC final loss
Two years after Team India suffered a defeat at the hands of New Zealand in the World Test Championship final, Rohit Sharma's men failed to win the final competition once again in 2023.
Dominating the entire Test match, Australia clinched a comprehensive 209-run victory over India.
After piling 469, thanks to hundreds by Travis Head and Steve Smith, in the first innings, Australia bowled India out for 296.
Chasing a target of 444, India crumbled down to score only 234 in the second innings, missing another chance to lift an ICC trophy in the recent past.
(Images: Twitter/Virat Kohli/ICC and Screenshot grab)
#ViratKohli, #AnushkaSharma, #India, #WTCFinal2023