#GazaConflict
New York: From the hustle and bustle of New York City to the edge of the Karura Forest in Kenya's capital, Nairobi, offices across the global UN system paid tribute on Monday to the 101 staff killed so far during the conflict in Gaza – the largest loss in the Organization's 78-year history.
The fallen colleagues worked for the UN agency that assists Palestine refugees, UNRWA, providing life-saving aid to Gaza's 2.2 million people, amid constant bombardment over the past month and a complete siege of the enclave.
They were school principals, teachers, health workers, including a gynaecologist, engineers, support staff and a psychologist.
"UNRWA staff in Gaza appreciate the UN lowering the flag around the world. In Gaza however, we have to keep the UN flag flying high as a sign that we are still standing and serving the people of Gaza," said Tom White, the agency's Director in the Gaza Strip, speaking from Rafah.
Minute of silence
UN officials and staff at duty stations worldwide observed a minute of silence in memory of their deceased colleagues, while the UN flag was flown at half-mast.
Speaking in Geneva, Tatiana Valovaya, Director-General of the UN Office in the Swiss city said their deaths represented the highest number of aid workers killed in UN history in such a short time.
"Thousands of our colleagues continue to work under the UN flag in [the] most risky parts of the world. And let's pay tribute to their activities, to their work, to their devotion," she said.
'A guiding light'
The UNRWA staff members "embodied the spirit of the United Nations, standing on the frontlines of conflict zones to provide much-needed humanitarian assistance and support," said the head of the World Health Organization (WHO), speaking at its headquarters in Geneva.
"Their unwavering dedication to peace, justice, and the well-being of others serves as a guiding light and a reminder of the importance of our shared mission," Tedros Adhanom Ghebreysus told WHO personnel.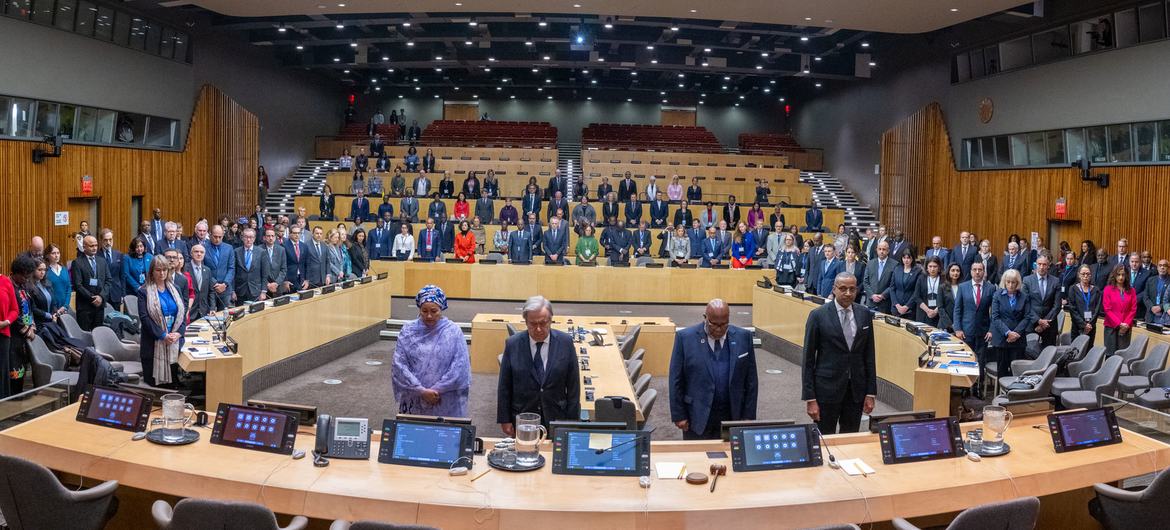 UN Photo/Eskinder Debebe Secretary-General António Guterres leads minute of silence at UN Headquarters in New York in remembrance of colleagues killed in Gaza.
Secretary-General António Guterres led the minute of silence at UN Headquarters in New York, which was held in the Economic and Social Council (ECOSOC) Chamber.
He stood before UN Resident Coordinators from around the world, who are meeting this week, flanked by Deputy Secretary-General Amina Mohammed and the President of the UN General Assembly, Dennis Francis.
Meanwhile, the UN Staff Union held a ceremony in the Secretariat lobby where the names of the deceased colleagues were read aloud.
"May they rest in eternal power and peace," said First Vice-President Francisco Brito, surrounded by staff members, some of whom held signs that said 'responsibility to protect,' 'stop the killing,' 'protect civilians' and other appeals.