In the months leading up to the Taliban takeover in 2021, Afghanistan's youngest female mayor, Zarifa Ghafari, was dealing with danger, uncertainty, and personal turmoil. Now a documentary- In Her Hands- captures it all.
Directed by Tamana Ayazi, and Marcel Mettelsiefen, and produced by Juan Camilo Cruz, Jonathan Schaerf in the United States of America, and Afghanistan, 2022 the documentary 'In Her Hands' with cast Zarifa Ghafari was world-premiered at the 47th edition of the Toronto International Film Festival at TIFF Bell Lightbox, Toronto.
It showcased how Afghanistan's youngest female mayor, Zarifa Ghafari, dealt with the turmoil in the months leading up to  August 2021 when the world watched as Kabul fell to the Taliban. Scenes of chaos, anxiety, and fear dominated the media.
Through the eyes of Zarifa Ghafari, appointed as the youngest female mayor of Afghanistan at age 26, the documentary film In Her Hands follows the 19 months with her story interwoven with those of two other key figures: her loyal bodyguard, Massoum; and an antagonist to her ideas, a commander in the Taliban army, Musafer. The complexities of the 20-year conflict in the region throw a light on the varying trajectories of their lives.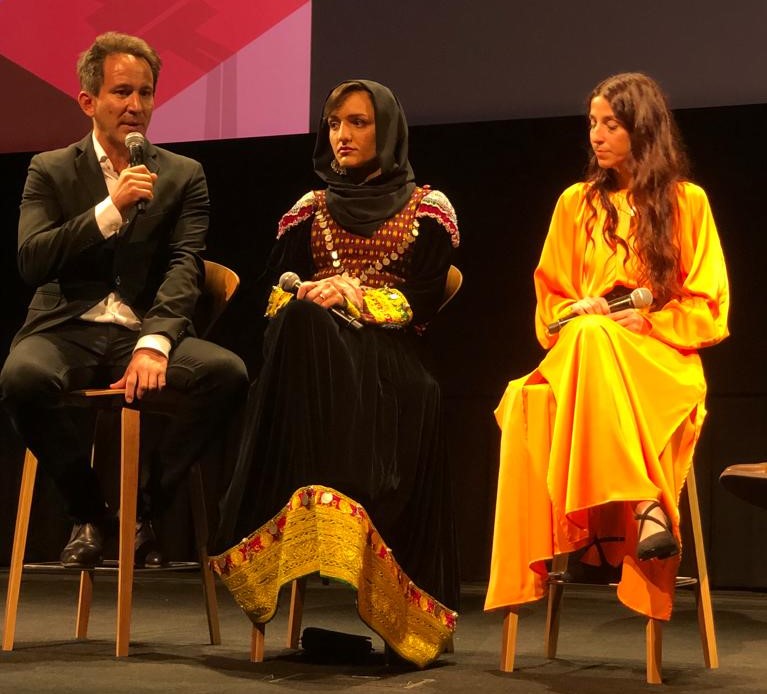 Bringing together the talents of Afghan filmmakers Tamana Ayazi and Marcel Mettelsiefen, who gain unique access, they watch Zarifa navigate multiple layers of political and personal turmoil, including a tense relationship with her father (a leader in the Afghan military) and a dilemma over working with her bodyguard — all against the constant threat of assassination.
As a staunch advocate for women's rights, Zarifais portrayed as making strides in her patriarchal town outside Kabul. But with the US troops preparing to withdraw, the Taliban increases attacks on political officials, Zarifia and her fiancé, Bashir, fearing imminent danger decide to leave the country. Zarifa's courage has already won her attention in human-rights circles.
A journalist and filmmaker from Afghanistan, Tamana Ayazi's In Her Hands (22) is her first documentary feature.
Born in Munich, Marcel Mettelsiefen's documentary films include the Academy Award-nominated short Watani: My Homeland (16) and I Want My Country Back (21). In Her Hands (22) is his latest film.
#TIFF22; #InHerHands