#TheSkyIsPink, #ShonaliBose, #PriyankaChopraJonas, #FarhanAkhtar


Shonali Bose, director and producer of the Priyanka Chopra Jonas-Farhan Akhtar starrer "The Sky is Pink" opens her heart to Asha Bajaj, IBNS Canada Special Correspondent, and Canadian Media's Editor, in an interview during TIFF 2019, where she talks about her personal loss and the loss faced by the parents of a child who dies from an immune deficiency disease.

Shonali, can you tell me what motivated you to produce this film? Is there a real-life link to the story in the failure of the advancement of medical research and technology to find a cure for diseases such as Severe Combined Immune Deficiency (SCID) Aisha suffered from in the movie?

No, it is not a medical journey and it is nothing to do with the medical failure to cure the disease. That is not what I was interested in. I was basically approached by Aditi and Niren Chaudhary to tell the story of their daughter. I told them that I would tell only their story, I was inspired both by their love story and for being such good parents to their daughter Aisha. They knew their daughter suffered from SCID and that she would not live long. Yet they were able to create such magical moments for her. They understood all the medical terms and did whatever they could to make her life happy. I found them very inspiring as parents. That is the story I wanted to tell. Through that, if anybody gets the message of medical failure to cure a disease, that is fine. But I did not put that message. I do not put messages like that in my films. There was, of course, no cure for SCID in India at that time. But since then Niren's boss had started a bone marrow transplantation bank.

In the movie, Aditi says that the birth of every child serves a purpose. What do you think Aditi meant by saying that every child has a purpose in life?

Aisha was a very evolved soul. She did not have to be on earth longer than 18 years and therefore died. It was because she did not have to be on earth longer than that. Such was the case of my son Nishan who lost his life at the age of 16. His soul was more evolved than Aisha's. Because people with more evolved souls leave earth earlier. Ishan knew that his purpose in life was over and he died.

As far as Aisha's purpose in life, I do not think there is a belief that a child should be born with a purpose in life. That is not what Aditi meant. She was trying to say that she did not want to abort the child.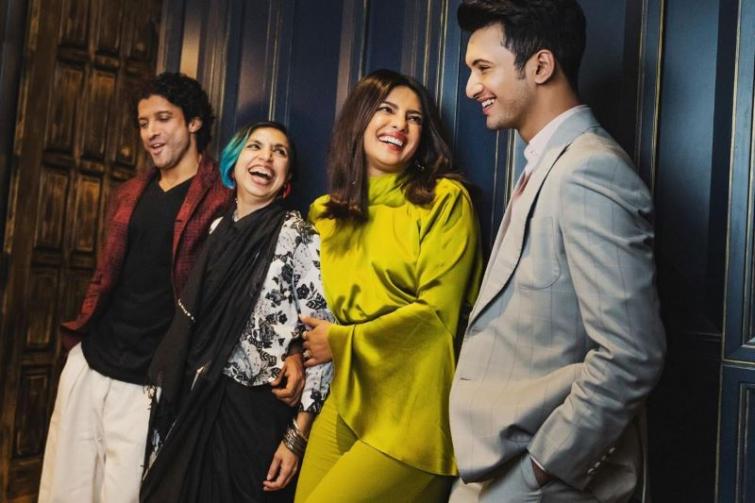 From left to right: Niren, Shonali, Priyanka & Ishan

What do you think Aisha's purpose in life was? Can you elaborate on that?

I think that Aisha's soul had chosen her parents and chose to die at the age of 18. She had served the purpose in life and she had learned all that she wanted to learn. She did not intend to live longer than that. Same with my son Ishan. He chose me as his mother and knew he would die at the age of 16. I feel gifted that he taught me about loss and pain and coping with death. He chose to have me as his parent and then died. That is really amazing and beautiful.
Same with Aisha. She brought a lot of life and light and courage into her parents' lives. She taught them to be brave and perseverant in life as they had to deal with stress and difficulties in finding cures for Aisha's disease and to make her short life happy. These were the difficult lessons of being aware that Aisha would die soon. Aisha's purpose in life was to teach her parents the meaning of loss, pain, and death and the strength to bear these.
There was a scene in the film in which medical blood reports said Ishan was not the legitimate child of Niren. Both Aditi and Niren are shattered. They felt that their lives were falling apart. Although there was a clarification later which proved the reports to be wrong, such reports could shatter the lives of many couples and challenge medical technology. Please comment on this.
This is based on fact. They did receive such a report. Everything is true. I did not makeup anything. AIIMS hospital in Delhi had produced a false blood report and when they were in London there was a fight between them with Aditi saying that we deal with this crisis or think of treating Aisha. The fight was not very serious and did not last long. But it was full of humor. The Sunrise Radio Station in London which helped the parents to raise money for the treatment of Aisha was also real. Great Ormond Street Children's Hospital (GOSCH) in London which saved Aisha's life was also real. Everything is based on fact.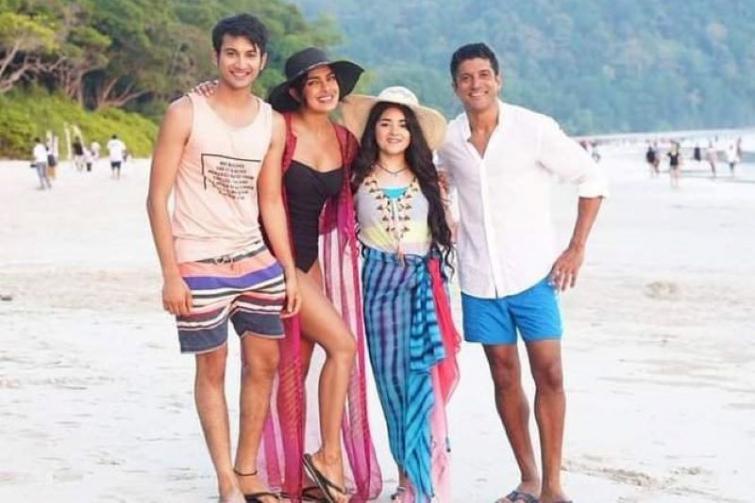 L to R: Ishan, Priyanka, Aisha & Niren. Image credit: Facebook of Shonali Bose

The film's message of freedom in choices in life is revealed by Aditi's message to her son Ishan when punished by his teacher. Another message of hope and happiness is revealed in Aisha's tribute to her parents asking them to let go of the past and enjoy life with hope for the future. Besides these, do you feel any other significance in the meaning of "The Sky is Pink'?
You are right about the two messages that you feel you get from 'The Sky is Pink.' Pink sky also signifies an expanse of horizons, endless opportunities, optimism, and positivity. To me, there is a third layer to it. It also signifies the presence of my son Ishan in the pink sky.
[Shonali Bose becomes emotional]
Every morning I look at the sky and say, Ishan, where are you? Talk to me. Every morning I talk to him. Today is the ninth death anniversary of my son Ishan and coincidentally 'The Sky is Pink' would be premiered in Toronto today. This morning when I looked at the sky to talk to him the sky was pink in Toronto.
[Bose shows the image of the pink sky on her mobile phone which she took that morning.]
​
The pink sky was given to me by my son.
​
(Asha Bajaj)