Directed by Martika Ramirez Escobar in the Philippines in 2022, Leonor Will Never Die was showcased as a closing night film in the category of Midnight Madness during the 2022 Toronto International Film Festival (TIFF)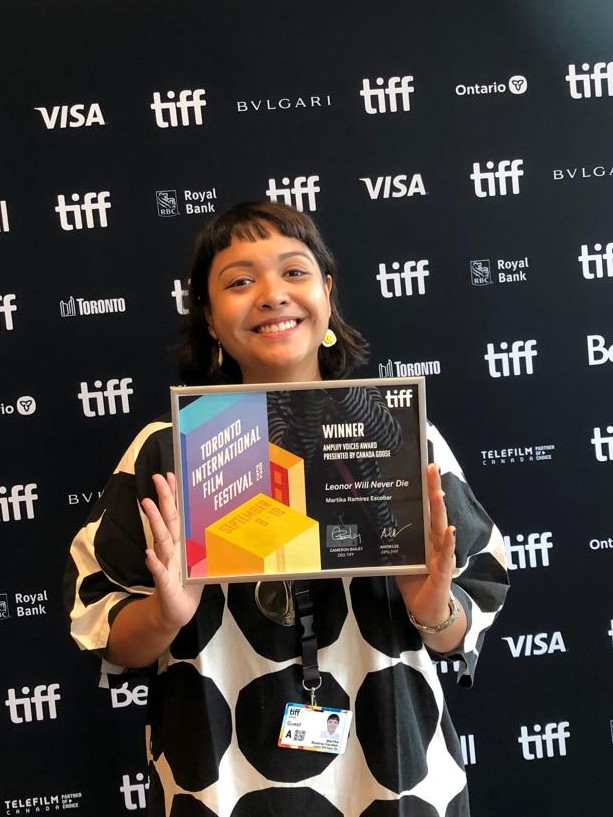 During TIFF 2022 Awards ceremony at TIFF Light Box on Sep 18, Martika Ramirez Escobar was honored with Amplify Voices Award for the film's original voice, and Escobar's fearlessness to bring fun and incredible lead performance.

Editorial Director of Canadian Media and IBNS-TWF Correspondent Asha Bajaj had an opportunity to catch up with Martika Ramirez Escobar, director of Leonor Will Never Die for a tete-a-tete.
Excerpts:

Justify the title of the movie.
The title of the film 'Leonor will never die' is about the admired filmmaker who transports into a film. In films, people never really die as films exist for centuries.

What was your motive for making this film?

I was myself trying to solve the existential crisis. When I first wrote this, I was fresh out of college. I just wanted to make a film but I did not have the money. So this film initiated from a place of urgency and tried several ways to make this possible. But it only became possible when I found the right people. So it was after 8 years I finally was able to shoot the film. and it was really the urgency that kept us going.
What were your criteria for the choice of characters in the film?
It is usually when I have them read the scripts. If they feel they feel they would be able to enact a real human being, a real person, and would be able to perform the roles. I leave them to decide. If they decide, I take them in. Usually, I can tell if they feel like the real world. So It is based more on my natural instincts.
What was your biggest challenge in the movie?

The biggest challenge of the movie was having no energy for eight years and then we started to confront what was not working and that is where things started to fall into place. So probably the last 30 minutes were added only when we had our so-called picture lock. But we added more scenes after. I am grateful to the editor for doing all those things I asked him to do just to record the timeline scene. There were times when we were editing this film and we were aware of the development and in production for so long. When my editor and I realized that 8 years have been spent on this unimportant thing but it also looked like a life with cuts and layers and sounds. So we decided to add these to the film. The conversation, in the end, is the conversation between my editor and me.
How did you get Sheila in the movie?
I just approached her and said that I want you to be in the movie which is an action film and she agreed to run with our vision of adventure.
Tell me about the research process for making the movie.
During the first draft, I did not do any research. I was working on my memory. People in the Philippines are so used to watching action film replays on TV and we watch them so much in stores, inside the bus, and in the clinics. These are so much ingrained in our minds. When I started to drive I just naturally knew what the images looked like and I felt everywhere they have their own version of those action movies. When the project came to life I started doing my research on YouTube.
Who financed your present film?
My life savings. Actually partly my life savings, and partly grants from private investors and donations to support. It is really a labor of love.
What are your future projects?
I want to make more feature films but it is always risky. They are not even on paper. I just look for anyone who is able to support my projects financially, then it is feasible. But I do wish to find the right people so that the film can exist.
LeonorWillNeverDie, MartikaRamirezEscobar, AmplifyVoicesAward, TIFF, TorontoFilmFestival; TIFF22