IBNS: "Unvanquished: The fight beyond Justice," tells ten real-life stories of the struggles of women of diverse ages and backgrounds.
A common thread that binds the stories in this collection is the prejudice, misogyny, and exploitation that women have faced and struggled to overcome for generations.
The struggle is not past them or us. Even as individuals and organizations continue their efforts to empower women, the harsh truth about the status and struggles of women cannot be wished away.
The book by Dr. Jonaki Mukherjee was released in presence of eminent choreographer-social activist Alokananda Roy, Additional Special Superintendent, CID, WB, Santi Das, noted psychiatrist Rima Mukherjee at Chapter 2 recently. There was a discussion session well curated by Oindrila Dutta.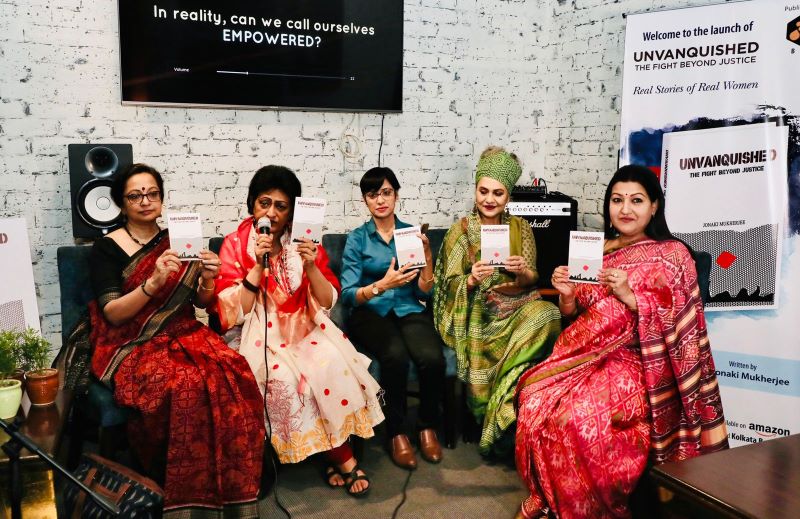 These are the stories and truths that author Jonaki Mukerjee shares with her readers. Jonaki is a dedicated teacher, a committed counselor, and an integral part of the West Bengal Women's Commission.
She brings to her writing of this book, many years of experience of having counseled and worked tirelessly with the real-life problems of women. This is what makes her book so special – the stories are real, not from the ancient past but from the India that we know today, and the person telling the stories has journeyed with each of the women she writes about.
Many of these stories and their protagonists may appear to be familiar because there could not be a single reader who is unaware of the societal pressures, prejudices and gender discrimination that is so rampant.
Jonaki's sensitive telling of the stories of the women she has worked with and stood by forms an important document that will inform and inspire others and hopefully, be a humble but firm step towards an improvement in the status and stature of women in India.
Dr. Jonaki Mukherjee said, "It feels really good to release the book.I hope this book would contribute something good to our society through the real life stories."