Hanna Polak. Image credit: HotDcos
Toronto/CMEDIA: Directed, produced, written, and cinematographed by Hanna Polak in Poland, Germany in 2022, the Hot Docs film 'Angels of Sinjar' was showcased during the 2022 Canadian International Documentary Festival in Toronto in the first week of May. Shot in northern Iraq, 'Angels of Sinjar' is a universal story and is Hanna's humble attempt to chronicle the Yezidi genocide as a testament to the ongoing courage and resiliency of Hanifa and Saeed, and to the cultural and spiritual richness of the Yezidi people's attempts to return to a lawful life of peace.
During the 2022 Canadian International Documentary Festival in Toronto Asha Bajaj from The Canadian Media had a chance to discuss with Hanna Polak, her contribution to this thought-provoking film, 'Angels of Sinjar.'
Following is the extract of the interview:
Asha to Hanna: What led you to the noble cause of tracking Hanifa's path as she proceeds to fulfill her promise to retrieve her sisters in one of the most dangerous and underreported places on earth, the Yezidi minority in the Sinjar region of northern Iraq?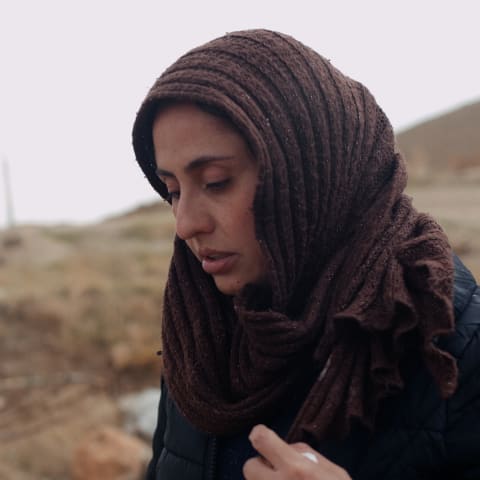 Hanna: I want to change the world for the better. I wish to help people and be of service to them. When I see a struggle, when I see people in distress, I wish to elevate their suffering, give them a voice and make their hardships noticed. I try to help people directly, if I have the opportunity, as well as help them by bringing attention to their problems.
Hanifa's story is a remarkable one. Not only did she survive the horror of losing five sisters to ISIS captivity, but she surrendered her own life and selflessly pursued her goal: a promise she made to her dying father to find them and bring them back.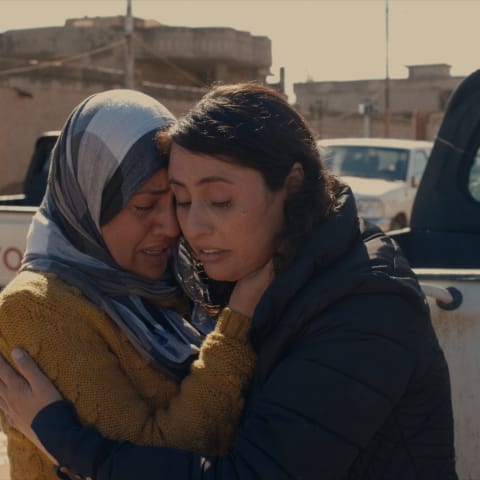 What dangers did you face when you tried to capture the footage of Yezidi in the deserted wilderness amidst darkness and loneliness?
I faced many physical dangers. In Iraq, I was moving along the front lines. ISIS fighters were infiltrating the region. You could say that we passed each other many times. I would go to a place that would be attacked or bombed by those extremists a day or two later. Bombs and mines were planted everywhere. Many times I visited places such as Mosul or Telafar where many extremists are still present even today. Those places were especially unstable and dangerous just after the liberation. In fact, when I arrived in Sinjar, Tel Afar was still controlled by ISIS. The city is barely 30 miles away from Sinjar. ISIS fighters would also come from Syria. The Syrian border is a couple of miles away from Sinjar. As of today, Iraq is building a concrete wall along its border with Syria, to keep out ISIS fighters. We are not talking about the past. In the thread, the danger continues. The sanitary situation has been terrible in Sinjar. There is no infrastructure. If something was to happen, there would be no hospitals to get treatment, especially if we talk about surgeries and more complicated issues.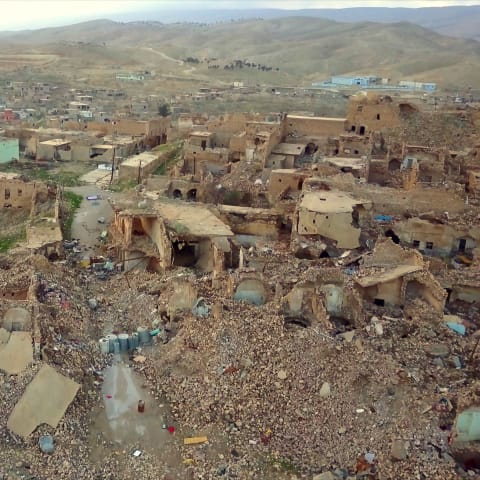 Yet, the biggest question for me was, if I would be able to stay sane after taking in so much darkness, after hearing so many horror stories, after facing an ocean of sadness and sorrows of victims of this Yezidi genocide. How many stories of torture, rape, mutilation, murder, and physical and mental destruction of the people in front of you can you take in and not need therapy yourself and be able to continue with your life?
What are some of the challenges you faced as a female director amidst political upheavals in a male-dominated society?
In 2004 I was nominated for the Oscars but to this day I have never been invited and accepted as a member of the Academy of the Motion Picture and Science. In recent years, on the basis of criticism more women were accepted by the Oscars. Many of the new members do not have an Oscar nomination under their belt, and I have not been accepted and invited. To me, this shows that many of those decisions are politically motivated, and we – women – and also foreigners, and minorities, are still seen as "lower" category directors or filmmakers.
Please throw some light on the fact that Sinjar considered by Hanifa to be inhabited by angels was converted by ISIS into a place of devils. Saeed also had remarked that they were the most harmless people and could not understand why all his family members were killed. ISIS had done irreparable damage. Please add your thoughts.
The irony is that Yezidis do not even have the concept of personified evil, and yet they are persecuted for supposedly worshiping it. According to the Yezidi religion, no one can challenge an almighty God. If God is all-powerful, no one can be His opponent. Yezidis say if someone wants to see a fallen angel, an evil person, he or she should look in the mirror. We are the ones who have a choice to follow the path of light or darkness, this is our decision.
There are many misconceptions regarding what Yezidis believe in. Their religion is very peaceful, loving, and very beautiful. They believe in reincarnation, so they know they need to do good, as karma returns.
People demonize others, who they don't know, or don't understand, and they add ideology to it.
As a producer, director, and/or cinematographer you have worked on various films. Please name a few with their themes, tone, and characterization. Which movie had been your favorite till now?
The Children of Leningradsky, the film about Russia's homeless children, completed in 2004 that I shot on the streets and railway stations of Moscow, is one of the films that is very dear to me. This was not just a film, but a part of the project to bring aid to those abandoned street children. Together with a group of volunteers, I tried to get those children out of the streets, place them in some shelters or orphanages, reunite them with their families, and save their lives as they were literally perishing on the streets. Some of those children managed to get out of homelessness and they have normal lives today. They have their own families, and they work. This is the biggest success.
I also love my previous film, Something Better to Come. For 14 years I followed Yula, whom I met when she was 10 years old. It is a tale of coming of age and maturing to the point when Yula takes her own destiny into her own hands. Yula transcends the conditions that she grows up in, namely the largest garbage dump in Europe. Today this persistent girl, despite how impossible it was to achieve that, has her own apartment and a family away from the dump. Yula is another amazing strong, brave woman protagonist, an amazing human. Of course, the current film, Angels of Sinjar is another impossible mission accomplished by a courageous and loving brave woman, Hanifa. Those are universal stories of hope, courage, and life.
You have been collaborating with different aid agencies advocating for the case of homeless children all over the world and helping unprivileged children. Please elaborate on this.
Together with a few of my friends I've been helping homeless children on the streets, railway stations, and garbage dumps of Moscow and the Moscow region since 1999. It started when I was crossing the railway station in Moscow and I met a group of homeless children. They invited me to come later that day. I bought some food and came back. There were so many children there that afternoon! My heart was broken. How was it possible that those little children were not needed by anyone and were simply living and dying on the streets?
I didn't just make movies. I engaged in direct help to those children. Over the years, we helped literally thousands of children with medical and psychological assistance, food, clothes, schooling, placing the children in orphanages, or helping them to return to their own families. I am very proud knowing that many of those children got out of the streets and have normal lives today.
In Moscow, I collaborated with the International Women Club or occasionally with Doctors Without Borders. But mostly, I was on my own.
However, knowing that my resources were very limited, I realized that making a movie and taking pictures that would capture the reality of the life of those homeless kids could be a very potent tool to make other people aware and generate more help. This is why I made Children of Leningradsky, Something Better to Come, or Love and Rubbish films.
My films were presented to the European Parliament to highlight the issues of child homelessness, and violations of children's rights as well as human rights. It invoked discussions all over the world (via National Public Radio, Chicago Public Radio, Russian NTV television, Polish TV, Canal Plus, Belgian Radio and TV, and many other media outlets). They were also featured as a story in dozens of newspaper articles including the New York Times, LA Times, Newsweek, and other newspapers and magazines all over the world. They catalyzed cooperative meetings between different charities to share their expertise and different experiences. UNICEF, as well as the organization People in Need, used the story to raise awareness and amplify pre-existing educational programs – on the topic of homelessness – all over the world. Globally, human rights film festivals and organizations held countless screenings of my films; these screenings are still conducted in schools in conjunction with educational programs advocating for social justice. I spent years advocating for the homeless children in countries such as Mexico, India, South Africa, and Poland and lecturing at different universities on this subject, trying to inspire others to take action.
Perhaps the most significant outcome was that policies in Russia concerning homeless children and the building of new orphanages have changed for the better.
Additionally, the work I did with the Active Child Aid foundation in Russia was instrumental in enabling Poland's largest state-run, anti-drug addiction program, Youth Movement Against Drug Addiction, to receive funds from the European Commission to make a pilot program for underage drug addicts in Russia.
The organization I co-founded, Active Child Aid (Aktiv Barne Hjelp | Charity Foundation), up to this day supports programs in Russia, Ukraine, Poland, Tajikistan, Philippines, and other countries in the world.
7. Please tell me in brief about your future projects.
My dream is to move into the feature film world. Angels of Sinjar, although shot in a cinema verité style, is very much like a feature film.
I like this kind of epic cinema, which creates a feeling of a larger universe, tells a universal story, and uses time as one of the protagonists. My teacher was Vadim Yusov, the DoP of Andrei Tarkovsky and he was behind such masterpieces of cinema as Andrei Rublov or Solaris. I love this mysticism of cinema, working with actors, not only capturing the reality but in creating it.
But then I see another urgent human subject and I get engaged in another documentary film to help another group of people who suffer some injustice. It is hard to plan it. Those projects find me, not the other way around.
(Reporting by Asha Bajaj)
#AngelsOfSinjar; #HannaPolak; #UniversalStory; #Humanitarian