#NationalAwards, #AliaBhatt, #KritiSanon, #AlluArjun, #GangubaiKathiawadi, #Mimi, #RRR
New Delhi/IBNS: The 69th National Film Awards were announced at a press conference in New Delhi Thursday with the winners' list being fairly Hindi film-heavy along with RRR featuring prominently.
Alia Bhatt and Kriti Sanon share the Best Actress award for their performances in Gangubai Kathiawadi and Mimi. Allu Arjun was named Best Actor for the blockbuster Pushpa: The Rise.
It is the first National Award for all three actors.
Both Alia Bhatt and Kriti Sanon took to Instagram to share their heartfelt gratitude.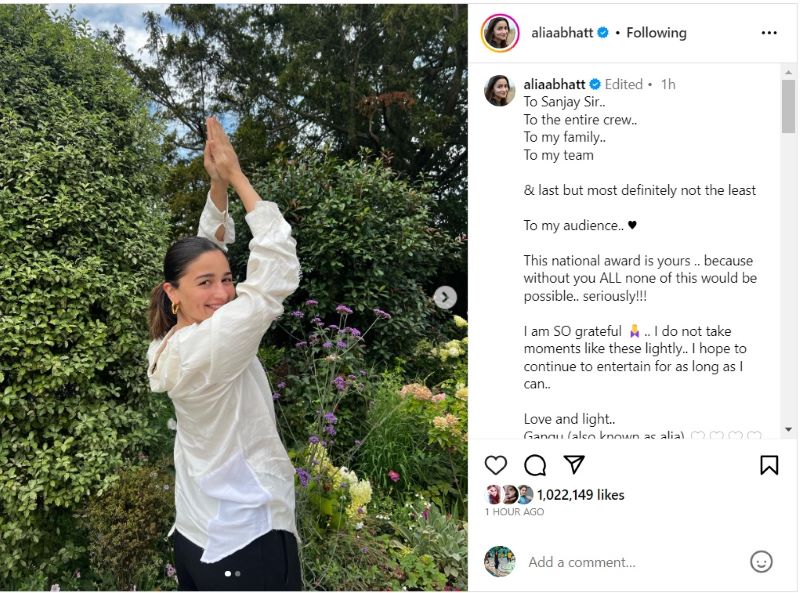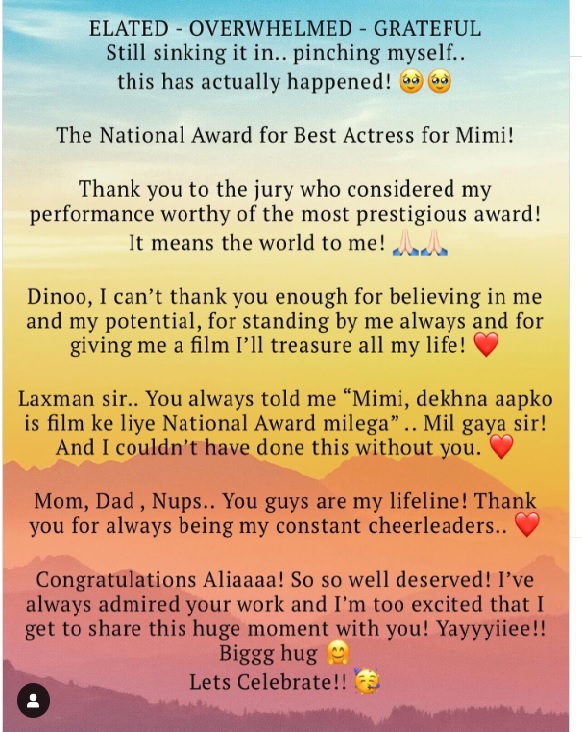 Rocketry: The Nambi Effect was awarded Best Film while Kriti's Mimi co-star Pankaj Tripathi won Best Supporting Actor and Pallavi Joshi won Best Supporting Actress for her role in The Kashmir Files which also won Best Film on National Integration.
Both Pankaj Tripathi and Pallavi Joshi have won special awards before.
Meanwhile, RRR won a slew of awards including Best Popular Film. Kaala Bhairava won Best Male Playback Singer for Naatu Naatu while Shreya Ghoshal won Best Female Playback Singer.
Gangubai Kathiawadi and Sardar Udham, which was named Best Hindi Film, also won several awards – Gangubai Kathiawadi won Best Screenplay, among other honours. Shershaah received a Special Jury award.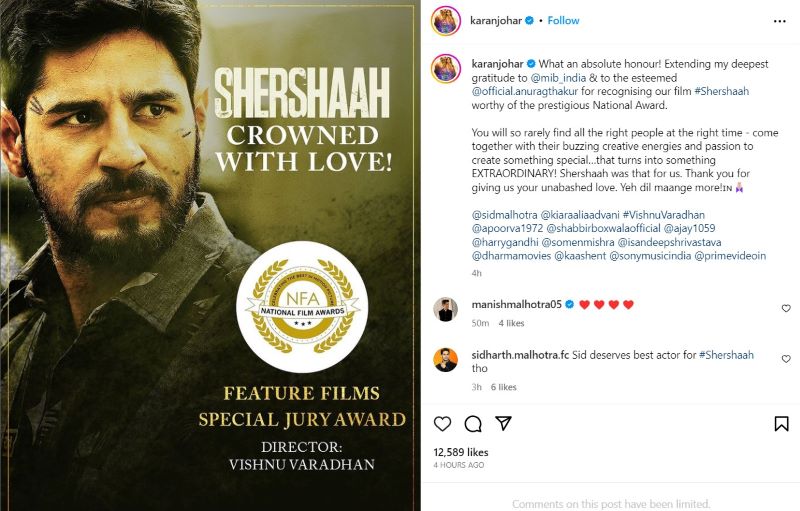 Here is the full list of winners in the feature film category:
BEST FILM – Rocketry: The Nambi Effect
BEST DIRECTOR – Nikhil Mahajan (Godavari)
BEST ACTRESS
Alia Bhatt (Gangubai Kathiawadi)
Kriti Sanon (Mimi)
BEST ACTOR – Allu Arjun (Pushpa: The Rise)
BEST SUPPORTING ACTRESS – Pallavi Joshi (The Kashmir Files)
BEST SUPPORTING ACTOR – Pankaj Tripathi (Mimi)
BEST POPULAR FILM – RRR
BEST CHILD ARTIST – Bhavin Rabari (Chhello Show)
INDIRA GANDHI AWARD FOR BEST DEBUT OF A DIRECTOR – Meppadiyan (Vishnu Mohan)
BEST CHILDREN'S FILM – Gandhi And Co
NARGIS DUTT AWARD FOR BEST FILM ON NATIONAL INTEGRATION – The Kashmir Files
BEST HINDI FILM – Sardar Udham
BEST GUJARATI FILM – Chhello Show
BEST ASSAMESE FILM – Anur
BEST BENGALI FILM – Kalkokkho
BEST TELUGU FILM – Uppena
BEST TAMIL FILM – Kadaisi Vivasayi
BEST MALAYALAM FILM – Home
BEST KANNADA FILM – 777 Charlie
BEST MAITHILI FILM – Samanantar
BEST MISHING FILM – Boomba Ride
BEST MARATHI FILM – Ekda Kaay Zala
BEST ODIA FILM – Pratiksha
BEST MEITEILON FILM – Eikhoigo Yum
BEST SCREENPLAY – Nayattu (Original)
Gangubai Kathiawadi (Adapted)
BEST DIALOGUE – Gangubai Kathiawadi
BEST MUSIC DIRECTOR – Pushpa (Songs)
RRR (Background Score)
BEST PLAYBACK SINGER
Kaala Bhairava (Male)
Shreya Ghoshal (Female)
BEST LYRICS – Chandrabose (Dham Dham Dham, Konda Polam)
BEST AUDIO-Chavittu, Jhilli, Sardar Udham
BEST CHOREOGRAPHY – RRR
BEST STUNTS – RRR
BEST SPECIAL EFFECTS – RRR
BEST PRODUCTION DESIGN – Sardar Udham
BEST CINEMATOGRAPHY – Sardar Udham
BEST COSTUME DESIGN – Sardar Udham
BEST EDITING – Gangubai Kathiawadi
SPECIAL JURY AWARD – Shershaah
SPECIAL MENTION
Nallandi (Kadaisi Viyasai)
Aranya Gupta and Bithan Biswas (Jhilli)
Indrans (Home)
Jahanara Begum (Anur)